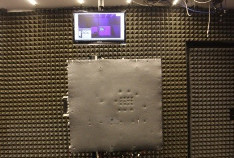 In the context of the acoustic signal processing, the PAVIS team is committed toward the development of innovative sensing systems based on microphone arrays, from short linear antennas for directional sound capture, to complex devices, called acoustic cameras, for the generation of 3-D audio images in real-time.
Both linear arrays producing a single beam and planar arrays producing a grid of multiple beams investigating the 3D space are designed to process extremely wideband signals, providing superdirective performances with low-cost microphones and an embedded processor. This is possible owing to robust beamforming methods that we recently proposed.
All our microphone arrays and acoustic camera are developed at a prototype level and tested into a silent room as well as in real operative conditions.
The microphone arrays developed in PAVIS have been coupled with video cameras, in order to exploit the information given by the two complementary sensing modalities.
For an example of a security application of our audio-video sensor in drone localization, you can see the following video from the IIT YouTube Channel.