[OPEN DATA] - Subtitle Dataset
[OPEN DATA] - Dataset list
[OPEN DATA] - Subtitle Code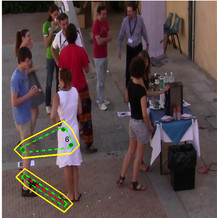 Conversational Groups Detection
A standing conversational group (also known as F-formation) occurs when two or more people sustain a social interaction, such as chatting at a cocktail party. Detecting such interactions in images or videos is of fundamental importance in many contexts, like surveillance, social signal processing, social robotics or activity classification. This paper presents an approach to this problem which models the socio-psychological concept of an F-formation. Essentially, an F-formation defines some constraints on how subjects have to be mutually located and oriented. We develop a game-theoretic framework, embedding these constraints, which is supported by a statistical modeling of the uncertainty associated with the position and orientation of people.
Heterogeneous Auto-Similarities of Characteristics
Capturing the essential characteristics of visual objects by considering how their features are inter-related is a recent philosophy of object classification. We embed this principle in a novel image descriptor, dubbed Heterogeneous Auto-Similarities of Characteristics (HASC). HASC is applied to heterogeneous dense features maps, encoding linear relations by covariances and nonlinear associations through information-theoretic measures such as mutual information and entropy. In this way, highly complex structural information can be expressed in a compact, scale invariant and robust manner.
Kernelized Covariance for Action Recognition
The descriptive power of the covariance matrix is limited in capturing linear mutual dependencies between variables only. To solve this issue, we present a rigorous and principled mathematical pipeline to recover the kernel trick for computing the covariance matrix, enhancing it to model more complex, non-linear relationships conveyed by the raw data. Our proposed encoding (Kernelized-COV) generalizes the original covariance representation without compromising the efficiency of the computation. Despite its broad generability, the aforementioned paper applied Kernelized-COV to 3D action recognition from MoCap data.